Kiss Me Kate
(1953)
* * * *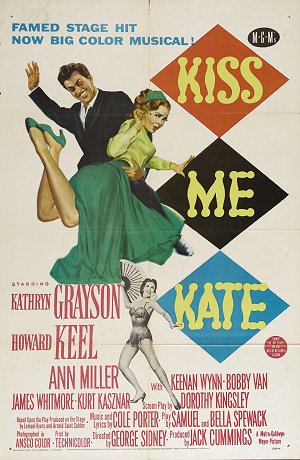 This film, quite simply, is a nearly flawless adaptation of a popular Broadway stage show (I saw a stage revival on Broadway back in 2000) during the last hurrah of the big MGM musical era.
The story is constructed using the "play-within-a-play" structure about the backstage antics of the cast and crew putting on a performance of Shakespeare's The Taming of the Shrew. Oh, and two gangsters intent on collecting a gambling debt.
Howard Keel and Kathryn Grayson play the lead roles of Fred Graham/Petruchio and Lili Vanessi/Katherine, a divorced pair of actors who are bickering during the opening night performance.
It was filmed in 3-D, which is why you'll see the actors on film occasionally throwing things at the audience: when Ann Miller's Lois Lane/Bianca dances during her rendition of "Too Darn Hot", she seemingly throws some of her clothes through the screen, but the film cuts to a seething Lili Vanessi who catches them.
Cole Porter did the music. It's simply phenomenal, and should make you laugh and cry.
Some of Porter's lyrics from the original play, first produced on Broadway in 1948, were toned down because they were considered too racy for film audiences. Even so, the songs are still great.
A young Bob Fosse is featured in the dance numbers.
Why is this film so enjoyable? It features first-rate musical talent who also had the acting ability to deliver the goods in the dramatic scenes; it borrowed from the Bard; and it is very funny in a variety of ways. Highbrow, lowbrow, situational humour, sophisticated innuendo, sparkling fast-paced dialogue … everything's here.
On the debit side of the ledger, it's impossible to ignore the dated staging at times, but it's only mildly jarring for brief moments in time.
I highly recommend Kiss Me, Kate.
If you'd like to see an excellent modern version which features Cole Porter's original lyrics, PBS filmed a 2001 London revival which is available for sale on DVD (the 2000 Broadway run deservedly earned several Tony awards). And I can't help but note that Rachel York is superb in the role of Lili Vanessi and a worthy successor to Kathryn Grayson.
So go brush up your Shakespeare.